how to identify fake websites? when you start online earning or buying from eCommerce website. you have to understand there are many scams websites that make fraud with you and your money. You can easily avoid those scams.
This article, helps you some options for how to identify fake websites options. On the internet lost some options are available If you search for shopping sale or money making website you got thousands of result. And you got this doubt. "it's this mess? This method legit? Is this company legit?"
There are many people and companies that want to steal your money online. Especially when it comes to making money online opportunities or buying from E-commerce websites, so it's very important to be skeptical about anything.
I don't regularly see that many online websites that actually want you to pay to get side income but that's alright they also have a risk guarantee. Many website that ask you to pay online to get home delivery, but there is no guarantee they deliver your product after taking money.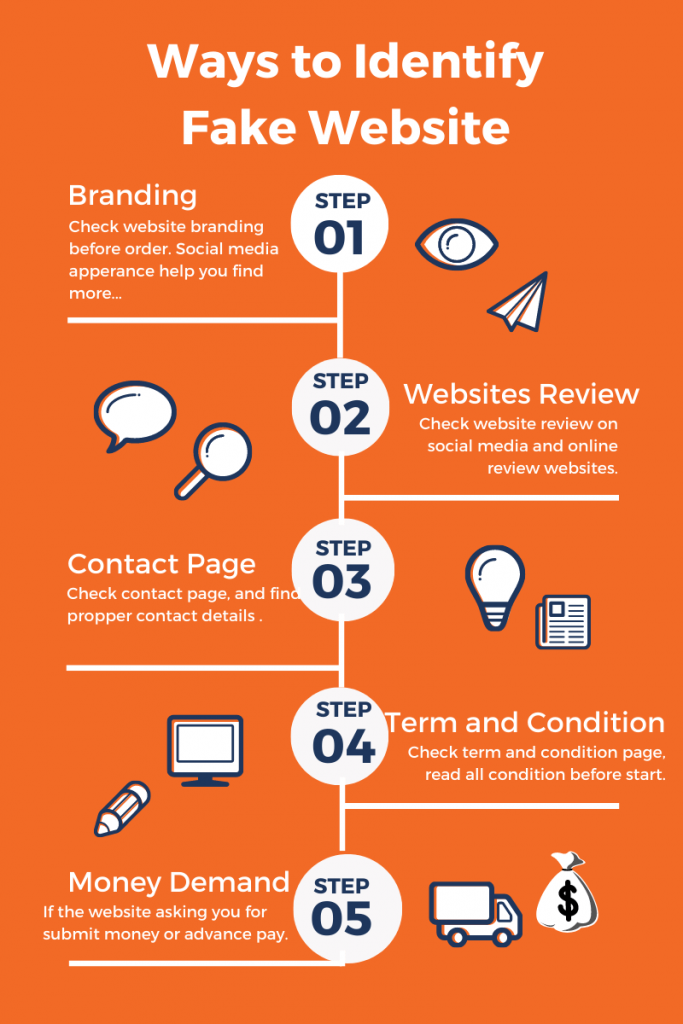 Ways to Identify Fake Website | Verify Website Authenticity
That is very important to choose legit website, the following point helps you to identify fake website.
Website Branding
Most of websites are fake just create to make scams. Before start work with them, you must check their social media presence. Online fraudsters just follow a simple trick is quickest create scam websites. Most websites have a social media page too, and audience comments their thought and other reviews.
Many sites create their fake social impact through paid comments that look more legit than real. If you found that type websites review, then use your sense, and use other website feature that indicates you secure.
Check Scam Websites Review
This is something I go through whenever I found a new website. I Just open google, and search for website review. I also search like this, jobs.com review, and you'll find a lot of reviews on search engine. I always like check new discount and opportunities. So reviews are helps us to verify fake websites.
That they've actually pulled together right here and just by reading these reviews you will get a very good understanding about the website. If there are no negative comments or review, that mean you are going good. Sometime scammers buy some paid reviews for making their scam legit.
Website Domain Age
The website domain means website name, like my website domain is prajad.com, and the website domain age means time before domain name registered. This way help you identify is domain new or old. If scammer newly started this website for make scam, then the domain whois tool will help you to identify it.
To check any domain age, go to whois domain tool and search domain name. You will get all details like domain owner name, address, and age. If you find any hidden details or new registered domain then careful.
Ask For Submit Money Before
Every scam website ask you to pay before, because they just wanted your money without providing any product or services. Mostly e-commerce store are give you heavy discount for product, but when you try to order with cash on delivery options, you will never found that option.
Many people just visit scam site through their scam advertising. The main purpose behind advertising is show you heavy profit and discount. Also confuse you with time limit of offers. When you going on money making website, Legit sites never asks you for any join fees, But scammers want money first. So just make sure website authenticity before paying anything.
Check About and Contact Page
There is one reason scammers don't want to know about them, and no one tries to contact them. So you better to check their contact and about page to understand scams. Because scammers hide their information so that no one can reach them. Even if they give a mobile number or e-mail id, it shuts down when they will scam you. With this in mind, take your next step.
The reputed site has about us and contacts us page or many type of method to connect with the customer care support. You can check all reputed E-commerce websites, they have at least two-three customer care number, online chat option and email support.
Term and Condition
In last few years many scam working with that trick. They register your account, and give you work also, but they try to reject your completed work without any reason. They just want blackmail you with their term and condition for collect fine amount of losses.
The scammers make shop website and write some unaccepted condition to refund your money. So reading their term & condition is help you aware from scam.
Check for SSL/TLS Certification
You can verify website authenticity with SSL/TLS certification. If there you get green padlock near website link. That means website owner have SSL/TLS certificate. For that owner want to verify their ownership. The most reputed website have their own SSL/TLS certification.
Well, that is good or not good option to verify fake website. Because now days every hosting company provide free SSL certificate, even many free SSL certificate providers are their. So maybe scammers can use free certification, but i found many website still certificate less.
Check Spelling and Grammars
Checking spelling and grammars of content is good habit for aware from fraud. The branded website always represent good content, They hire content writers for write legit content for their website. But scammers just wanted to scam by showing unbelievable offers and deals. Most time they never write anything or just copy-paste other website content.
If you not good in English language, or English is not your first language then you can ask for help from your family or friends. Remember scammer also can hire content writers to show you legit website with accurate English.
Search and Ask on Reddit
Reddit is one of the best forum to find website authenticity. Just go to Reddit and search your website or related keyword. If you never found any result, then you can ask in community. Their are many reviews already available on website, which is making fraud with people.
Use Reddit before paying money, and ask many people if the website is new.
Wrapping up
Above all are simple trick to identify fake websites, and I think you understand. But just be aware with all online earning and e-commerce website. There is a fake website also which can scam you.
New website daily stared, That's not mean all websites are legit. also not mean all website are fake, some are real, and give you offers just to promote website. But you need to verify website authenticity every-time. Above all ways are help you aware from scam website.